What's up at Reneal [2017-07-06]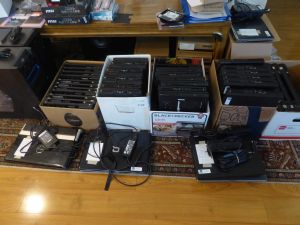 We've both been busy recently with a variety of tasks.  And as the Tanzania trip nears, the pace will continue to accelerate!  Neal's big recent accomplishment was completing an update of the workstation version of the Reneal system.  I finished testing the Free Geek equipment, so it is ready to ship to the Philippines for the 2018 projects.  I've also started pulling together the equipment that we'll be taking to Tanzania.  And in his spare time, Neal has been exploring an exciting new capability that we're hoping to pilot in the Philippines in 2018.
One of the key benefits of the Reneal system is running everything from a server, so the client computers don't even need a hard disk.  So why a workstation version of the Reneal system?  There are two main motivators.  First, sometimes teachers want to share material in their class but the classroom doesn't have a connection to the server.  The workstation version allows them to copy server content onto a stand-alone laptop and bring it into the classroom.  The second driver for us right now is our joint project with The School Fund in Tanzania (TSFTZ).  TSFTZ is donating laptops to some schools in Iringa that will not receive a Reneal server.   With the workstation version, they can still get much of the educational content and programs that the server includes even though they don't have a server.  And compared to stand-alone Windows systems, they will experience many fewer headaches from viruses.  Neal had a previous workstation version but has updated it with the latest versions of the Open Source Software.  Next I'll be doing some testing to make sure everything works properly so we can prepare an image file for easy copying onto the laptops.
The Free Geek computers, along with some other recent donations from members of Holy Trinity Lutheran Church in Fremont, are ready for packing and shipping.  This equipment (about 20 computers all together) will be heading to Cebu for installation during our 2018 trip.  I have also consolidated the hardware that we'll be carrying to Tanzania in August – roughly 52 laptops and adapters, 4 servers, 4 monitors, 5 network switches, plus many other odds and ends.  I plan to re-test all of the hardware and then start getting it packed in early August.  It is going to be absolutely wonderful to get this hardware out of the Reneal warehouse and into the hands of the students!
On the R&D front, Neal has been spending quite a bit of time researching Google Cardboard and Google Explorations.  These are virtual reality tools that can be used for educational purposes.  We've felt lucky that we've been able to share computers with schools in Tanzania and the Philippines for over eleven years now, but Neal is always looking for "the next big thing" for the students and teachers.  We're considering a pilot project in January in Cebu to evaluate this exciting new technology.