Week 2 in review [2018-02-05]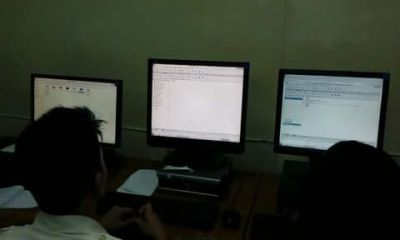 Most of last week, our second in Cebu, was spent in the town of Carmen which is about a 40 minute bus ride north of Compostela.  In a Reneal first, we installed our system in a tertiary institution, Cebu Techological University-Carmen.  Two labs at CTU-Carmen have now been equipped with Reneal servers.  We also visited Carmen National High School, historically one of our most active schools and home to two Reneal servers.  We ended the week feeling really great about the opportunities for students to get hands-on time with the computers at these schools.
Before we could get started at Carmen though, we had some Week 1 work to finish up.  Neal returned to Tayud National High School on Monday after finishing the updates on their server over the weekend.  They had been running Ubuntu 12.04 so he got them upgraded to 16.04.  He spent the day showing them the many new programs and features of the system.  Tayud NHS was down for about a year due to building demolition and construction, and it's great to have them back on line!  When we get back to the US, we'll be looking for more client computers for their very busy computer lab.  Meanwhile on Monday, Lloyd and I returned to Compostela National High School to make repairs on client computers in the library there.
Tuesday, Thursday, and Friday Reneal Team Philippines was at CTU-Carmen.  This university provides an opportunity for poorer students to get a college education close to home.  It offers a wide variety of programs, and our work there focused on expanding the computer labs that support the students seeking a Bachelor of Science in Industrial Technology (BSIT) with a focus on computer studies – the same degree earned by current and past Reneal Team Philippines members Sir Jade, Lloyd, and Rhog.  We provided server computers for each of two of the existing labs and added ten client computers to one of those labs.  We really enjoyed working with the teachers, Sir Louie and Sir Marlon, as well as reconnecting with Sir Jezreel (formerly of Carmen National High School) who pointed us toward this opportunity to serve a new student community.  The students of Sir Louie and Sir Marlon also provided invaluable help in the work of network cabling and routing in the two labs.  We didn't get entirely finished – still a few software things to fix – but nonetheless the Reneal systems in the labs are usable already for the students.  We'll be back in early March for system administration training and making the final tweaks on the software.
It's worth pausing for a moment to mention that these two labs at CTU-Carmen do not have internet.  The Reneal system really shines in such cases because of its large collection of applications and resources that are stored in the server and shared easily to all clients.  The teachers were also thrilled by the account and file management capabilities of the system.  The very first night after installation, students were already hard at work on the system!
Wednesday we were back at Carmen National High School.  The two computer labs there have new computer teachers in charge, and it was a thrill to finally meet Ma'am Khenlie and Ma'am Cherry!  It was a big day of work, but together we were able to check out all of the client computers in both labs and Neal got one of the servers updated with new content.  He and Lloyd went back yesterday, Neal to update the second server and Lloyd to finish off repairs of two clients (one of which was now magically working).  Neal also spent a lot of time with Ma'am Khenlie and Ma'am Cherry to show them the system and its features. 
So, Week 2 was just as intense as Week 1 but a lot of the heavy work is already behind us.  Today we head north to Daanbantayan, where we'll visit Daanbantayan National High School and Tominjao National High School.  DNHS has two servers, so we're expecting to spend a couple of days there for server updates and client checks.  We'll be back in Compostela Saturday.  We are looking forward to working with the teachers in Daanbantayan again.
Sunday evening we'll be meeting with the committee that administers the scholarship program here in the Philippines.  As the school year here ends, it's time to review and consider what's ahead for School Year 2018-2019.
 [Photos: Students using the Reneal system at CTU-Carmen, Lloyd and Sir Louie's students doing the cabling at CTU-Carmen]