The usual whirlwind [2017-03-15]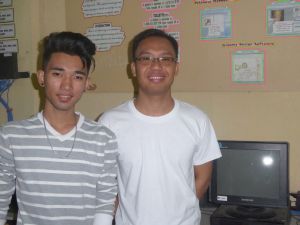 And suddenly here we are, just three days from departure…  It's the usual frantic mix of finishing the planned tasks, dealing with surprises, trying to get equipment where it needs to go, and saying good-byes to our loved ones here.  Neal and I also took a few days off last week to make a long-anticipated trip to the island of Palawan.  It was nice to have a few days of down time before the final blast of work.
Neal, OJTs Rhog and Lloyd, and I visited the two high schools in Liloan last week, Liloan National High School and Arcelo Memorial National High School.  At Liloan NHS Lloyd was reunited with high school IT teacher, Sir Isidro Icot!  Our main task at Arcelo was to consult with Sir Jade to finalize the details of the contract that will keep Rhog and Lloyd affiliated with Reneal following their graduation on March 29th.  We are so pleased that we will continue to have them as part of Reneal Team Philippines!  We hope to sign the contract later today.
We've been in a bit of "divide-and-conquer" mode since then.  Neal returned to Consolacion NHS to finalize conversion of the teacher accounts to 16.04.  He found the lab full of busy students, as usual!  Rhog, Lloyd, and I headed back to Compostela Central to deliver the repaired server.  Lightning had damaged the motherboard, so Neal had to replace it.  Unfortunately the electricity was out when we arrived, so I did a quick test of the server using the UPS battery but we couldn't do much else.  Rhog and Lloyd headed back to Central on Friday and finished putting in Ethernet cables for the remaining computers recently donated by World Vision.
Monday Neal headed back to Carmen NHS.  Sir Jezreel had reported that the internet there has been intermittent, and Neal wanted to check it out.  After lots of testing, his hypothesis is that it is a modem issue – beyond our power to fix.  I reported to Compostela National High School and made a list of things that need to be done there.  In the afternoon Neal and I met with the Compostela NHS IT teachers and department heads to discuss how to maximize use of the IT labs for the students.  We also discussed the class schedule for the next school year.  I have supported the school by using the Open Source FET program to do the scheduling for the last couple of years, and I hope to be able to help again with that.
Yesterday Rhog, Lloyd, and I went to Estaca Elementary to make some minor updates, while Neal reported back to Compostela NHS to work with the new IT teachers, Sir Ryan and Sir Joel.  In the afternoon, Neal worked with Sir Joel to install a printer in the library and the boys and I tried to repair laptops (with mixed success).  This morning brings a trip to Bagalnga Integrated School, our last planned visit.  We'll all be at Compostela NHS this afternoon for more work.  
It still seems like there are lots of loose ends to wrap up and the apartment is a disaster area, but we've done this enough times to know that things will come together in the end – one way or another!
[Photos: Lloyd with his high school IT teacher, Sir Isidro Icot, at Liloan NHS;  Ma'am Fritizie Soronio and the Reneal IT lab at Consolacion NHS]