Tribute to a friend [2017-11-23]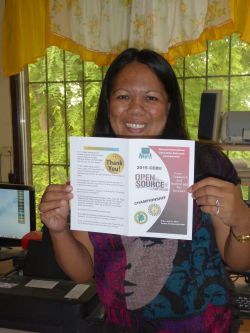 This week brought very sad news to the Reneal family in the Philippines.  Our long-time friend and colleague Ma'am Nerry Bugtai passed away in Cebu following a valiant battle with breast cancer.  Ma'am Nerry was the computer teacher at Compostela National High School when Neal and I first arrived in the Philippines as U.S. Peace Corps Volunteers.  She became a mentor, teacher, advocate, advisor, encourager, early adopter, and so much more.  But most of all, we counted her as our friend.  It's safe to say that the work of Reneal Team Philippines would never have progressed without Ma'am Nerry's contributions.
Neal and I first met Ma'am Nerry on May 4, 2006, when we made our very first entrance into the CNHS computer lab.  We were nervous, but Ma'am Nerry's friendly welcome put us at ease.  During our 2-1/2 years in Compostela, Neal and I worked hard together with her and the other teachers to transform the computer infrastructure of the school.  It was there that Neal developed the seeds of the system that has become Reneal's chief product: a single power server full of educational material connected to thin clients.  Ma'am Nerry's fearless acceptance of new things made it a perfect partnership for us.  It was a laboratory for Neal to add new capabilities and get invaluable feedback.  Ma'am Nerry and the other CNHS teachers patiently accepted the occasional glitches, crashes, slow-downs, and "undocumented features" that are a part of the development process. 
Neal and I said a sorrowful goodbye to Ma'am Nerry and Compostela at the end of our Peace Corps service in December of 2008.  However we had a suspicion that that wasn't the end.  Neal continued his development work, and in September of 2009 we began our tradition of returning to the Philippines at least once a year.  Neal and I still laugh about our original lab at CNHS, with Pentium 4 machines as the servers and Pentium 1 and Pentium 2 machines as thin clients.  But with Ma'am Nerry's encouragement, we kept making it better year after year.
Our work in Tanzania, based upon the Philippines model, began in 2010.  In 2012 Neal and I co-founded Reneal IEO, a 501(c)(3) public charity.  By 2013, we were ready for expansion in the Philippines and Ma'am Nerry played a huge role.  She was a well-respected leader among the computer teachers in northeastern Cebu.  She helped us identify good candidate schools, managed the communication to arrange site evaluation visits, and accompanied us on those visits.  I think we can safely say that Ma'am Nerry's presence made all of the difference in our success over the years as we expanded to different schools in Cebu. 
I can't begin to convey all of the ways that Ma'am Nerry facilitated our work.  First, she was able to explain clearly to the other schools what the Reneal system was like.  Many computer teachers had negative views of Linux due to prior un-user-friendly interfaces and arcane system administration, and she could dispel their fears by sharing her real-world experiences with usage and maintenance of the Reneal system.  Coming from her position as a respected authority among computer teachers, it was a very powerful testimony.  I'm sure her presence at our site visits gave other computer teachers the message that Neal and I were people that could be trusted – having the "Ma'am Nerry stamp-of-approval" was invaluable in helping us form new partnerships.
She also taught Neal and me, rude Americans that we are, how to behave and interact properly in meetings and other situations in the Philippines.  Over time, we were able to laugh with her about our cultural faux pas, and we are never-endingly grateful for her ability to see beyond our mistakes to the underlying positive intentions that we had.  We leaned on Ma'am Nerry to help navigate all kinds of logistical challenges in addition to our site visits: who needed snacks and when, recommending lunch selections, arranging for opening and closing program dances, having leis for dignitaries, requesting help from other teachers for event registration… the list goes on and on.  These things, so important in the Philippines, were mysteries to Neal and me.  Ma'am Nerry was so kind and generous with her guidance, giving so much of herself behind the scenes to make our work successful.  I am sure millions of critical things, of which we had no idea were happening (or even knew they were needed!), were completed due to her efforts. 
When we had the inevitable problems (technical or people-related), she was our wise counselor who helped sort it all out.  I can't count how many times we would say "let's just ask Ma'am Nerry…" when we were puzzled about how to proceed.  We spent so many hours huddled together in the IT lab getting the benefit of her guidance.  Her advice was always thoughtful, effective, and delivered tactfully.  And goodness knows we've had innumerable disappointments in our work with Reneal, but Ma'am Nerry was always there to encourage us and give us the strength to keep going.  Our shared experiences over 11+ years of working together also provided us with endless hilarious stories; evil spirits in computers never strike in the same way twice!
Perhaps the most amazing thing of all is that Ma'am Nerry never seemed to realize how vital her involvement was to Reneal's success.  A person of humility, she was always ready to serve without needing rewards or a spotlight.  We feel keenly her loss and know that we will be forever grateful for her selfless contributions to Reneal Team Philippines.  Rest in Peace, Ma'am Nerry Bugtai. 
 [Photos: Ma'am Nerry Bugtai]