Three months to go [2017-05-30]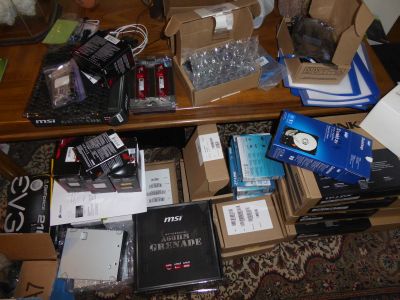 We're down to less than three months to go before the return to Arusha.  I have a long list of action items but overall I think we're on a good path.  We have all of the server parts here now, and Neal is getting ready to assemble them.  I got the equipment pre-ordered that we'll be purchasing in Arusha.  We have a tentative schedule for installing the new sites and visiting the existing ones.  Overall, I think we're where we need to be.
Last Wednesday we met with Judy Severson and Elizabeth Trueman of The School Fund Tanzania.  We discussed the daily schedule during our short time in Iringa, where we'll be installing Reneal servers in two schools.  We will be doing these "sight unseen", but their computer expert Mr. Amos helped us tremendously by sending photos of the computer rooms.  We will be also be installing new Reneal systems in two schools in Arusha, and Reneal School Liaison David Nyangaka is making sure they are also prepared for our arrival.
Neal has finished his new program to make it easier to prepare the student list at each school.  This student list is used to automatically create folders for each student to store their files the first time they sign in to the Reneal system.  As such, it is very important… but it also takes time to create, and the computer teachers are very busy people.  The new program allows computer teacher to use existing soft-copy student rosters in many different formats, and it automatically reformats those rosters and adds them to the official student list.  Neal has written instructions for how to use the program, and I'm hoping to make a short screen-capture video as an additional aid.  We will be sending that to the schools in the Philippines late this week or early next week.  School Year 2017-2018 starts on Monday in the Philippines!
On Friday, Reneal Team Philippines members Rhog Sampan and Lloyd Tuñacao will be heading to Labogon National High School to help move the Reneal computer lab to a new building.  We expect this to be happening more frequently, as the government continues to tear down old one-story school buildings to replace them with multi-story buildings for greater capacity.