Tanzania Scholarship Update [2017-12-15]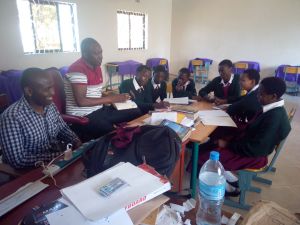 In the mid-November blog post, I reported on the upcoming Tanzania scholarship program.  Since that time, Reneal School Liaison David Nyangaka has made fantastic progress in helping us finalize the cost estimates and select our first group of six scholars.  We welcome Kennedy Lema, Domina Matesh, Daniel Miboki, Eliamani Silamoi, Cynthia Swai, and Ruth Telesphory to the program!  Reneal has made the payment for room and board for the first term at Mwandet Secondary School, and David is in the process of coordinating uniforms, school supplies, and dormitory needs for the students.
Reneal has a long-standing relationship with Mwandet Secondary School.  We installed a computer lab there in 2014 but had previous visits that convinced us that it was a great place for Reneal to invest.  Mwandet is a boarding school with their students coming from distances that are too far to walk each day.  The school itself is far off of the main road, and it's a bumpy, dusty journey to get there.  In fact when Neal and I installed the system there in 2014, we stayed overnight at the school for several days to avoid the long drive back and forth from town.  From that stay, we had a good opportunity to experience the rhythms of the school and to get to know the Headmaster, teachers, and students better. 
In the last month, David has worked tirelessly with the teachers at Mwandet to select six students (three boys and three girls) for the scholarships.  We were looking for third year high school students with excellent academic performance, demonstrated need, and an interest in computers and technology.  These students will be asked to assist the computer teachers with lab cleaning and other tasks, as an opportunity to "pay back" as well as an opportunity to learn more about computers.  Importantly they are also expected to be role models for other students in responsible use of technology.
The school year starts in January of 2018, and we look forward to seeing how these students learn and grow during the coming months.  We are grateful to Mwandet Secondary School and David for making this new program possible!
 [Photos: The 2018 Reneal Tanzania Scholars (photo from Mr. David Nyangaka)]