Speeding through Weeks 3 and 4 [2018-02-13]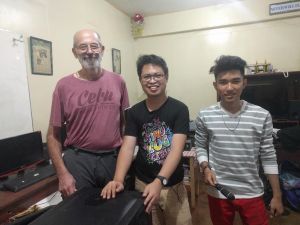 It's hard to keep up with everything happening here.  Last week, our third in Cebu, was spent in northern Cebu in the town of Daanbantayan.  We began computer lab projects there in 2014 in response to Typhoon Yolanda which devastated so many communities here in the Philippines.  Last week we focused on two schools, Daanbantayan National High School and Tominjao National High School, making updates to their servers and fixing client computer problems.  While we've already done this operation several times now, it never seems to be routine!  We got back home to Compostela on Saturday afternoon, tired but satisfied.  Sunday night we met with the scholarship committee at United Church of Christ in the Philippines (UCCP) to start discussing plans for the next school year.  We'll visit two schools this week for updates and client repairs before heading off Thursday for 10 days of R&R.
Back in 2014, it was a major decision to begin projects in the north.  Historically we have benefitted from geographical focus, having most of our schools within a one-hour transportation radius.  This has made long-term maintenance and troubleshooting easier and more efficient.  While Daanbantayan can be a day trip from Compostela, it doesn't leave much time for work.  It took us about 3-1/2 hours to get there by air-conditioned bus.  A non-aircon bus might take 4-1/2 hours one way.   For this trip, we had three full days of work and added a day of travel on each end to reduce wear-and-tear.
Two of our days in the north were spent at Daanbantayan National High School.  They have two servers, so Neal upgraded both of them.  One was still running 12.04, so he brought it up to 16.04.  The other server, already running 16.04, was enhanced with more content plus the new programs that Neal wrote in Tanzania.  Lloyd and I worked on the clients in both labs.  There are over 50 clients, so that kept us entertained while Neal did the software upgrades.  It was really a joy to be back with the computer teachers at DNHS, Sir Ching and Ma'am Bhing.  We love working with them and hearing about how the students are using the computers there.
The day at Tominjao NHS was much the same – Neal worked on the upgrading the server from 12.04 to 16.04, and Lloyd and I worked on the clients.  There were numerous client problems, which is a concern.  This lab is outfitted with laptops and air conditioning is yet to be installed.  We spent a lot of time troubleshooting and fixing, but I am concerned about longevity with the hot environment.  They expect to install the aircon shortly, and it won't be a moment too soon.  There is also a new computer teacher at Tominjao, Mr. Herbert, and we enjoyed working with him to show him the capabilities of the Reneal system.  That made for an extra-long day at Tominjao, and we were grateful for their enthusiasm and patience!
We got home Saturday afternoon and tried to get some rest after a tiring week.  Sunday night's meeting with the scholarship committee at UCCP was certainly energizing!  I really can't say enough about the dedication of the UCSAP committee at UCCP that administers this program.  Reneal provides the funding, but the UCSAP committee prepares the budget, disburses the transportation allowance each week to the students, coordinates payment of the annual PTA fee at the school, tracks expenses to the centavo, and serves as mentors and guides to the scholars during their academic journey.  We currently have five Grade 11 students, six Grade 10 students, and three Grade 9 students in the program.  We reviewed this year's budget status and began discussion about the plans for the next school year.  This program has been going for nine years now, has navigated the addition of Grades 11 and 12 to the school system here in the Philippines, and is poised to produce its first Grade 12 graduates in April of 2019.  We are so grateful to the UCSAP committee and to our donors who make this program possible.
Monday was a day to divide and conquer for Reneal Team Philippines.  Neal multi-tasked here in the apartment, using his VPN link to communicate with Daanbantayan NHS, Tominjao NHS, and Carmen NHS to troubleshoot some software issues.  Lloyd headed to Tabok National High School in Mandaue City for some reconnaissance of the clients computers, so we would know what parts might be needed.  I, motivated by panic due to an approaching tropical storm, rushed to do laundry so it could dry before the torrential rains began.  I also dropped by Compostela National High School to make sure the library there still had internet connectivity and to pick up some spare parts… and honestly, to just chat with our dear friends there whom we've known now for 12 years.
Today all classes in Cebu were canceled due to the tropical storm, but thankfully we were able to carry on with our plans to work at Arcelo Memorial National High School where Sir Jade works as a computer teacher.  Neal did the upgrades to the Arcelo server and Lloyd and I worked on the clients.  Lloyd, Sir Jade, and I also inventoried and organized the "South Spares" boxes that Arcelo so kindly stores for Reneal.  That is just a huge help to us, so we can quickly address hardware problems that arise when Neal and I are in the U.S.  Thankfully Neal and I made it home during a lull in the rain.  Tomorrow Neal, Lloyd, and I will be at Tabok National High School – yes, for yet another server upgrade and for yet more client repairs.
Still ahead, we have visits planned for Jagobiao National High School, Labogon National High School, and Compostela Central (one of our few elementary schools).  We also still have our Reneal system installation at Compostela Science and Technology High School which has been delayed due to computer room renovation.  Right now, system administration training for the new Super Users is planned for March 1st.  As we approach the halfway point, I'd say we're on track but it's been more challenging than expected.  The R&R is timely, to recharge and review what has happened to date.  We'll be back on line soon, reporting on the next round of work.
 [Photos: Three generations of Reneal Team Philippines – Sir Neal, Sir Jade, and Lloyd; The UCSAP scholarhip committee meeting]