Servers of all kinds [2017-06-22]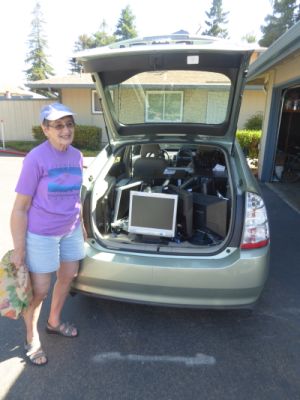 Readers of this blog are always hearing about "servers", the powerful computers that are at the heart of the Reneal system.  The Reneal server computer stores all of the programs and educational materials used by the students and teachers and acts as the repository for all of the files that are generated.  Neal has now finished building the four server computers that we will carry to Tanzania in August to set up Reneal systems at four new schools.  This week I am inspired to write about human "servers" who are making a positive difference in the world through their compassion and generosity.
This week, I submitted a summary report on the recent grant received from the Danville Sycamore Valley Rotary Club.  The DSV Rotary International Committee entrusted Reneal IEO with $2000 for the purchase and installation of video projectors in three of our high-performing schools in Arusha, Tanzania.  The students and teachers at the three beneficiary schools are absolutely thrilled to have this new capability in their computer lab.  Rotary's motto?  "Service above self."  Reneal is humbled and honored to, in some small way, be the hands and feet of the Rotary Club "servers" who touch peoples' lives around the world. 
Reneal has also been a grateful recipient of hardware grants from Free Geek (www.freegeek.org) in Portland, OR.  Just this week, Reneal Board Member Priscilla Batty returned from Portland with 15 desktops, 15 monitors, 35 keyboards, and 100 mice for Reneal projects in the Philippines.  This is the fifth grant from Free Geek to Reneal!  I really can't emphasize enough how important these donations have been.  We had a crisis brewing with many computer labs in Cebu with respect to monitors, but through Free Geek's generosity we have been able to replace all of the dead or dying CRT monitors and now even have a small stockpile of monitors in each of our two main work areas to serve as spares.  Free Geek also grants a free computer to anyone willing to provide to 24 hours of volunteer service.  They teach computer classes and keep used computer hardware out of landfills.  Free Geek, a truly amazing organization, is filled with "servers" who are generous with their time and talent.
This week brought the proposed budget for the Reneal scholarship program, administered by the UCSAP committee at the United Church of Christ in the Philippines in Compostela.  This selfless group of people helps to identify high-performing public high school students with financial need.  Each week, they distribute an allowance to each scholar for transportation and school projects.  They balance the books to the last centavo, and they provide moral support to the students in their academic journey.  This program could not happen without these faithful "servers" supporting the scholars.
Reneal's path has also crossed that of two other non-profit organizations in the last year: Asante Africa (www.asanteafrica.org) and The School Fund (www.theschoolfund.org).  We have met dynamic, dedicated "servers" in these organizations as well, forming partnerships that allow Reneal to leverage our resources in new places.  And of course, we are so grateful for the "servers" within Reneal: our Board of Directors, our donors, computer technicians Rhog Sampan and Lloyd Tuñacao and former intern Sir Jade Reyes in the Philippines, and Reneal School Liaison David Nyangaka in Tanzania.  It is exciting to be a part of this web of servers working for improved education around the world!
[Photo: Reneal Board Member Priscilla Batty delivering the donation from Free Geek to Reneal headquarters]