Reflections [2017-03-28]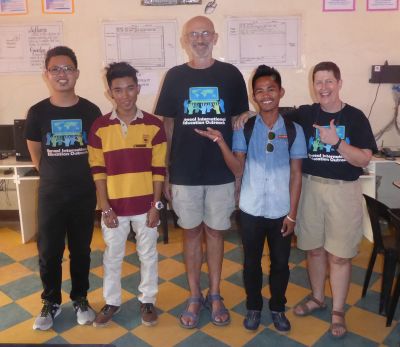 It's the afternoon of March 28th here, which means March 29th is dawning in the Philippines.  It's graduation day for the boys!  Rhog and Lloyd, Reneal OJTs these last 10 months, will be receiving their BSIT-Computer Technology degrees today.  Sadly Neal and I are already back in the US so won't be able to attend, but we'll be eagerly scanning Facebook later today to see the photos.  We are excited that Rhog and Lloyd will continue working part-time as computer technicians for Reneal following graduation!
Neal and I left Cebu on March 18th.  We really didn't get everything done that we wanted to, but that's typical.  Packing was a challenge, with separate piles for here and for various places there in Cebu.  We were pleased to provide ten of the Aboitiz Equity Venture units to Carmen National High School to replace some of their very old units (circa 2005) that are still working but very slow.  Sir Jade at Arcelo Memorial NHS took more of the equipment to add to the "south spares" stock, so we have a way to quickly deal with attrition.  We are very grateful to Sir Jade and to Sir Chester in Daanbantayan for holding Reneal spares to support all of the Reneal schools in their respective areas.
Now that we're back in California, we're following up on various action items.  Two days after we got home, I was back in the garage packing up ten units from the National Cristina Foundation and Polycom to send to Daanbantayan National High School; they have units of the same vintage as Carmen NHS, and our hope is to slowly phase out those machines as resources permit.  Neal has been working on a new piece of software to simplify creation of the "student list" which is used to automatically generate folders for individual student file storage.
With the Philippines visit behind us, our sights turn toward Africa.  Last Tuesday we made a return visit to the Danville/Sycamore Valley Rotary Club to accept a $2000 grant generously provided by their international committee.  This grant is to purchase video projectors for three of the Reneal schools in Tanzania.  We are just thrilled by this opportunity to provide an invaluable learning tool to these schools!  Reneal School Liaison David Nyangaka has been coordinating this effort in Arusha, and we hope to have the equipment installed in the schools soon.  Tomorrow we're meeting with Judy and Denis Severson and Elizabeth Truman of The School Fund.  We will be discussing the joint TSF/Reneal project planned for September in Iringa, Tanzania. 
The Reneal Board of Directors also meets this Saturday.  We have plenty to talk about, between near-term tactical decisions for the Tanzania projects and longer-term strategic questions regarding Reneal's role in Cebu. 
Photos: Daniel Kodam, Danville/Sycamore Valley Rotary ; Sir Jade with Lloyd and Rhog