Preparation progress [2017-08-01]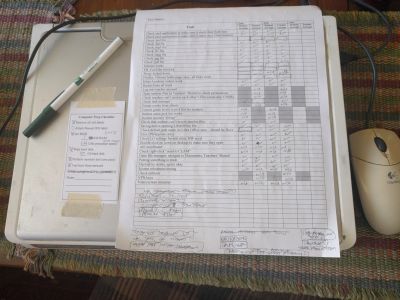 Neal and I had one last blast of summer fun this last week, doing some backpacking in the Sierra Nevada of California.  The fresh air and beautiful scenery helped clear our minds before the final flurry of activity for the Tanzania trip later this month. 
Since we got home, I've retested all 52 laptops and adapters that we plan to take.  I also checked each port of the five network switches we're taking.  I ordered a few extra laptop adapters from eBay to take with us as spares; they should arrive Friday or Saturday.  I still have to inventory everything in the green bag, our trusty tool kit, and make sure we have what we need.  But the test-and-restock phase of my work is nearing completion.
Neal is finalizing the Ubuntu workstation version for the stand-alone computers that will be deployed in Iringa with our partner, The School Fund (www.theschoolfund.org).  Then we'll do some final testing and he'll put the image on a USB hard drive to leave with Mr. Amos, the TSF computer expert in Iringa.  I made a DVD with some Open Source programs for Windows as well, for those computers that will have Windows as an operating system.  I am so pleased to report that the World Computer Exchange (www.worldcomputerexchange.org) computers purchased by TSF are at their locations and have undergone initial testing!
Neal is almost finished with the server image that we'll be deploying in Tanzania this year.  It is based on Xubuntu 16.04 and will be very similar to what we deployed in the Philippines earlier this year.  Once he finished that, I'll run it through my test matrix and pass back comments to Neal.  We usually have one or two iterations of that, and then he can burn the hard drives for actual use.  I'm hoping we can complete that entire activity by the middle of next week.
And then comes the rather tiresome job of packing.  I've already paid for six extra pieces of luggage for our KLM flight, and I'm guessing we'll need at least two more.  Given that we get four free pieces, that adds up to quite a load!  I will be so glad to get it all there and finally start with the "fun" work of installation!