Looking back [2017-12-23]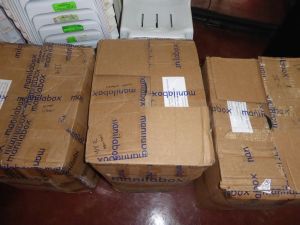 With most of 2017 in the rear view mirror now, it's a good time to reflect on the year.  Our list of Reneal schools did not grow much in 2017 compared to recent years – just two new labs in the Philippines and two new labs in Tanzania.  However, although such work is often unheralded, Reneal made big strides in addressing equipment attrition in both countries in 2017.  In particular, thanks to Free Geek we were able to replace numerous aging and inefficient CRT monitors with flat-panel monitors in the Philippines.  We also began the process of replacing the oldest computer units in Reneal schools in both Tanzania and the Philippines.  But the unquestionable high point of 2017 was Reneal's return to Tanzania!
Two years ago, the trip to Tanzania was discouraging.  While a few schools seemed to "get it", computer use overall was disappointingly low.  In a stroke of incredible good fortune, David Nyangaka at the Arusha District Council agreed to become the Reneal School Liaison.  David's energy and commitment are contagious, and while there is still room for improvement, the buzz in Tanzania is incredibly exciting!  We were also very grateful to reconnect with our partners at Arusha Node Marie and Habari Node, who provided invaluable assistance to Reneal during our time in Arusha.  The wheels are already turning for Reneal to return to Arusha in 2018, and we are eagerly seeking donations of laptops in order to equip three new schools with Reneal computer labs as well as replace some older units.  Our goal is to deploy 110 laptops, so we welcome any leads to used computers that can be given new life in schools in Tanzania.
Reneal is also on the brink of realizing a long-time dream to initiate a scholarship program in Tanzania.  We will be piloting a program starting in January at Mwandet Secondary School in Arusha, with six scholars.  In addition, the UCSAP scholarship program in Cebu continues with fourteen scholars.
As part of our on-going partnership with schools in both countries, we have established a spares stock at three locations: northern Cebu, central Cebu, and Arusha.  This was a big step in 2017 that allows Reneal to respond more quickly to hardware problems in both countries.
The Philippines at the end of 2017 is a conundrum.  Similar to Tanzania in 2015, we are currently seeing low computer usage in Cebu at many schools.  The addition of Grades 11 and 12 to the school system in the past two years has caused tremendous upheaval – new curriculum, new buildings, new teachers, and many training sessions for teachers.  Many computer labs have been displaced temporarily, while at the same time the Department of Education has been trying to equip schools with additional computers.  As a result, the future in Cebu remains unclear at the end of 2017.  But we'll be there soon, and we will see what 2018 brings.
In closing, we at Reneal wish to thank our supporters, donors, and partners.  We could not do this work without them!
 [Photos: Back in Arusha at Nduruma Secondary School and stock of spare Reneal equipment at Daanbantayan National High School]