On location in Cebu [2018-01-27]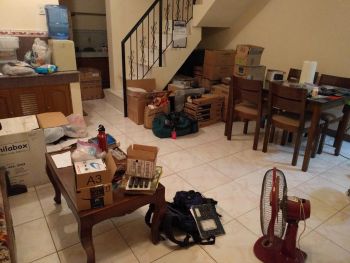 One more time, we've made that amazing 24-hour transition from our ordinary American existence in Fremont California to residence in the little town of Compostela in Cebu.  Some of the basic facts of life come back immediately ("take off your shoes at the door", "use your spoon to eat rice") and others have to be painfully relearned ("don't leave food outside of the ant-proof containers").  We've joyously greeted friends that we haven't seen for 10 months and are reveling in the smiles and good humor of the people here.  Our work schedule for the first week turned out to be slightly optimistic, but in general we're off to a good start with our 2018 projects here in the Philippines.
In spite of the US government shutdown and a brand new airport terminal to navigate in Seoul, we had a very smooth trip.  Reneal Board member Justin Thompson picked us up early last Saturday morning for our flight and we arrived at our apartment in Compostela at about 1 a.m. Monday morning.   We only brought about 240 pounds of baggage, which for Reneal is traveling light.  We are living in a different apartment this year because our former abodes were all occupied.  The only surprises we've had so far relate to the water system.  The water suddenly stopped flowing Friday morning as I was washing dishes.  Water issues have been a somewhat regular occurrence for us in the past, so I was relieved when the apartment caretaker showed me that there is a valve to refill the roof tank.  However we were also surprised to learn that there is not an automatic shut-off, which was revealed by a sudden and rather loud waterfall in the laundry area.  Other than those little glitches, the apartment has been fantastic with lots of room for the boxes of computer equipment that we are taking to the schools.  We are so grateful to our friends Ma'am Merlin and Raul for always helping us find comfortable and convenient places to live while we are here in Cebu.
Monday we worked on getting settled in.  This included buying drinking water, sending myself cash to pick up at the local pawn shop, setting up the phones with local sim cards, unpacking our household items that we leave here each year, buying coffee and powdered milk, unpacking the jumble of things we brought from the US, and so on.  Sir Jade helped coordinate delivery to our apartment of seven boxes of equipment that we'd pre-shipped to the school where he teaches, Arcelo Memorial National High School.  We also dropped by Compostela National High School, our "home school" from our US Peace Corps Volunteer days.  What a joy to see our friends there again!  We also grieved with them for the loss of Ma'am Nerry Bugtai, a dear friend and co-teacher who lost her fight with breast cancer in November. 
The rest of the week was mostly consumed by work.  Tuesday we returned to Compostela NHS to address some computer issues in the IT lab and library.  It was generally a successful visit, but I'll head back Monday with Reneal computer technician Lloyd Tuñacao to make repairs on some of the client computers.
Wednesday, Thursday, and Friday Reneal Team Philippines visited the Reneal schools in the town of Consolacion: Consolacion National High School-Day, Jugan National High School, and Tayud National High School.  These schools are some of the most active users of the Reneal system, so we are always thrilled to be there in person to help improve their labs.  The computer teachers are dedicated, knowledgeable, and committed to sharing computers and technology with their students.  At all three schools, Lloyd and I made minor repairs to the client computers while Neal worked on updating their servers.  He had expected the updates at the first two schools to be straightforward, so it was frustrating to have weird issues on the first day.  Thankfully the work on Day 2 went better, but Friday's update has stretched into Saturday.  Such is the nature of software, and hopefully each future update will get easier.
So, it's been kind of a typical Week 1: the challenges of adjusting and setting up a household, the need to bring order out of the chaos of equipment and gear, the work that doesn't go exactly as planned.  But overshadowing it all is a sense of deep gratitude.  As always, we are humbled by the generosity, kindness, and grace of the people around us here and honored to be their partners in sharing technology with students.
 [Photos: Our apartment, still in need of further organizing]