Happy New Year! [2017-06-08]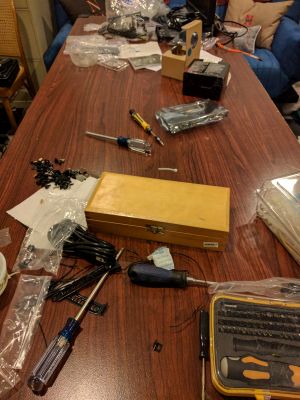 First of all, we wish a HAPPY NEW YEAR to the teachers and students in the Philippines as they begin School Year 2017-2018!  It is always an exciting, chaotic time of the year there as classes begin.  And of course, our thoughts continue to turn toward Tanzania as we prepare for our late-August work there.  As such, it ended up being a week of very diverse tasks!  A sum-up of the past few days…
+ We sent out Neal's new "updateStudentList" program to the computer teachers in Cebu.  This program makes it very easy for the computer teachers to create the student list at each school using rosters in many different formats created by the section advisors.  The program automatically reformats the data and adds it seamlessly to the official student list file.  Earlier this week I recorded a tutorial video to go with the program, and we put it on the Reneal Google drive for the teachers' use.
+ Neal completed building three of the four Tanzania desktop servers.  We also plan to set up two high-power donated laptops as emergency servers to leave in Tanzania in case of problems.
+ I supported Sir Chester Pascua and Sir Joel Tanjay at Compostela National High School as they created the new schedule for this school year for the teachers.  With that many students and teachers, schedule-making is a chore.  However Neal found an incredibly useful open source program, FET, that we've used a couple of years now to help with this onerous task.
+ Rhog and Lloyd, Reneal computer technicians in Cebu, helped move the Reneal computer lab at Labogon National High School to a new building.  Yesterday they went to Tabok National High School to trouble-shoot four clients that were not working. 
+ David, our Reneal School Liaison in Tanzania, continues to explore tax-exempt shipping for the equipment we'll be carrying to Tanzania in August for our new installations.  He is also visiting the schools to see what issues they have and to motivate computer use.
+ Neal fixed a software problem at Daanbantayan National High School.  For some reason, the permissions for some of the student account setup files were incorrect, so students couldn't sign in or log out properly.  Neal was able to download the setup files using his VPN link here, find the problem, and fix it.
+ We had meetings this week with Judy Severson of The School Fund Tanzania (our partner for two installations later this year) and Erna Grasz of Asante Africa (a major NGO doing work complementary with ours); the former meeting was to continue nailing down the details of our joint work in September, and the latter meeting was to continue to explore ways that we can collaborate to better serve students and teachers in Tanzania.  It's always a thrill to meet with like-minded folks to brainstorm new ideas!
+ We received donations of a desktop and laptop from current and former members of our church this week, so we did the disk wipe, memory check, and set-up for use as a Reneal client on both machines.  These units are now in the queue to be sent to the Philippines.
All in all, a good week!