Going home [2018-01-18]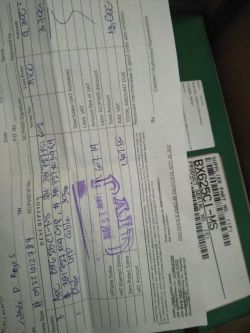 The blog has gone by the wayside these last three weeks, between some personal travel and preparation for our trip to the Philippines this coming Saturday.  Thankfully most of the equipment was shipped already, so we'll be traveling "light" (at least relative to Tanzania).  We have a tentative schedule arranged for the school visits as well as for the two new school installations.  We are very excited to be heading back to our second home in Cebu!
Our former student and now high school computer teacher Sir Jade Reyes has been helping us tremendously, as usual.  He has already purchased most of the hardware that we typically buy in-country: uninterruptible power supplies, voltage regulators, power strips, etc.  Ma'am Pitogo, the principal at Arcelo Memorial National High School where Sir Jade teaches, graciously allows us to ship boxes there so we can pre-position donated computers for pick-up and delivery to the schools.  Right now I have lists, and lists of lists, to make sure everything gets to where it needs to go. 
We are also excited that we'll be seeing Reneal Computer Technician Lloyd Tuñacao, who will be working with us again this year.  Our other technician, Rhog Sampan, recently accepted a job at ON Semiconductor.  We will miss Rhog's dedication and skill, but we are so pleased that he now has a full-time position.  Lloyd and Rhog plus Sir Jade have made our work in Cebu very efficient in recent years. 
We will be visiting fewer schools this year while in Cebu.  Our focus is on getting some of the more heavily used Ubuntu 12.04 servers upgraded to Ubuntu 16.04.  Neal has done a handful of these upgrades but they are still not entirely turn-key, so we want to have plenty of time available if he needs it. 
There are numerous advantages to 16.04, but one of them is the ability to run an Open Source program called "Epoptes".  Epoptes allows the computer teacher to survey the desktops of all of the client computers, to send messages or take control of some or all of them, to share the teacher's desktop with all students, and to log out or shut down clients.  For years, the computer teachers have been asking for these capabilities and Epoptes gives it to them with an intuitive user interface.  We are certain that the computer teachers are going to be thrilled with Epoptes!
Tomorrow is the big push to finish packing.  We have about 90% of the gear together, but as in all other things, the last 10% takes 90% of the time.  Then Reneal Board Member Justin Thompson will be at our door at 6:30 a.m. Saturday morning to head to the airport.  The next blog post will be from Compostela!
 [Photos: One of our to-do lists (photo courtesy of Ma'am Edna Molejon, Tabok National High School), the fruits of Sir Jade's shopping (photo courtesy of Sir Jade Reyes, Arcelo Memorial National High School)]