Geeks in the house [2017-07-13]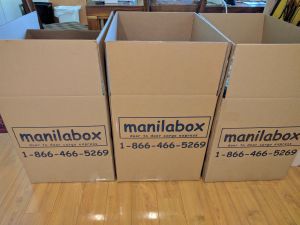 Things are getting comically chaotic here at Reneal Headquarters, between the Tanzania trip preparation, packing the Free Geek equipment to send to the Philippines, and Neal's new R&D work with the virtual reality goggles.  Without a resident non-geek to keep things under control, Neal and I have been able to go wild with our "mission control" interior design look!  The good news is that tomorrow, three big boxes of computer equipment will be picked up for delivery to a school in the Philippines (one of our 2018 projects).
Our computer technicians in the Philippines, Rhog Sampan and Lloyd Tuñacao, have been visiting the schools and helping them with various hardware problems.  We are so pleased to have these two diligent guys helping out the computer teachers to keep the labs running well!  We are thankful this year that we have stocks of spare equipment both in Liloan and Daanbantayan, within easy range of all of the Reneal schools in Cebu so replacement can be quick.  Free Geek's generous donation of extra keyboards and mice will help expand our pool of spares that we can allocate as needed.  Our intent is to stockpile two extra servers in Tanzania this year as well, for emergency use if there is a server failure.
I finished testing Neal's workstation version of Ubuntu this week.  I had the added benefit of checking out a similar product created by World Computer Exchange (www.worldcomputerexchange.org).  Between my testing of Neal's software and my evaluation results from the WCE version, I had a good list of feedback for Neal.  But it's close to final, so we'll have that nailed down in plenty of time before our trip to Tanzania.  That version can be used at The School Fund schools in Iringa that will not receive a Reneal server on this trip.
I spent one evening packing the three boxes for the Philippines.  Included are 10 desktop computers, 12 monitors, 11 mice, 11 keyboards, 22 power cables, and 12 video cables – all from Free Geek (www.freegeek.org).  This stuff fit almost perfectly into three boxes – usually it's not so cooperative!  These boxes will go to Compostela Science and Technology High School, where we will install a Reneal server in early 2018.  They already have about ten computers in their IT lab that hopefully can also be used as clients, for a total of 20 seats.  We still need to send a server and network switch, but at least most of the stuff will be underway tomorrow.  I still have a pile of other equipment to send to the Philippines yet, but I want to finish my Tanzania computer testing first, just in case I need to draw anything unexpectedly from the Philippines pile.  It is going to feel empty here come August…
Neal did a survey of virtual reality goggles last week and ordered some different models for evaluation.  He found a clear winner in early testing, but there's definitely more work to be done.  Not surprisingly, it was the most expensive pair (about $20).  Unfortunately it's impossible to evaluate longevity in the Philippines living here in this benign California climate – but that's why we're doing a pilot.  That will be one thing we will try to evaluate as this project procedes.