Back to work [2017-05-20]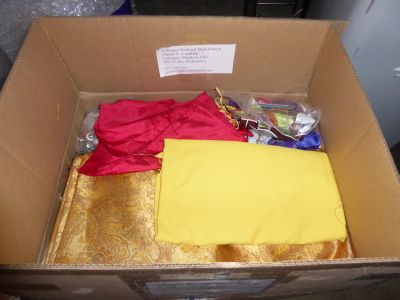 The Reneal blog has been silent while Neal and I were on holiday, but we're back home now and itching to get back to work.  In our absence, the third video projector was installed at Mlangarini Secondary School in Arusha Tanzania.  Thanks again to the Danville/Sycamore Valley Rotary Club for making this happen, and to Reneal School Liaision David Nyangaka for coordinating the installation!  Now our sights are set on the late August departure to Tanzania.  There is a lot to do yet: servers to build, software to test, many boxes to pack.  However there is plenty of time yet, and we know the drill.
This morning I just finished packing up four boxes of fabric donated by a sewing club through my former work colleague Jennifer Robles; these will be shipped to four different Reneal high schools in the Philippines that have vocational education sewing programs.  This donated fabric gives students valuable hands-on experience without the added expense of having to purchase it themselves – a big burden for the poorer students.
Before Neal and I left on holiday, I supported Judy Severson and Elizabeth Truman of The School Fund Tanzania (TSFTZ) in preparing the Memorandum of Understanding documents for the schools in Iringa that we'll be working with in September.  We are excited about this joint project with TSFTZ!  Reneal will supply servers for two secondary schools, and TSFTZ is receiving computers from World Computer Exchange.  The computer shipment was due to arrive in Tanzania last week.  We'll meet with TSFTZ next week to check on our collective status for the projects, but so far it is coming together well.
Neal got the rest of the server parts ordered Thursday so we should have everything in the warehouse by Monday, ready for assembly.  We'll be taking four servers, two for new Reneal schools in Arusha and two for the TSFTZ schools in Iringa.  Building servers is one of Neal's favorite tasks, so lots to look forward to!
School Year 2017-2018 will kick off on June 5th in the Philippines.  Reneal Team Philippines members Rhog and Lloyd will be visiting each school to make sure everything is set for the new school year.  There are also some computer labs that will be moving into new buildings, and they will be helping with that.  We are so pleased to have these guys working with us following their college graduation.
So, lots of odds and ends going on.  I will be laying out a formal Tanzania plan in the next few days to make sure we end up ready to go in late August, as well as a schedule for how we'll spend our precious in-country time there.  Let the countdown begin!