Back on line [2017-12-01]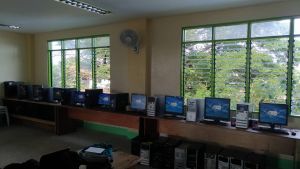 Some great news this week from both the Philippines and Tanzania!  From time to time, Reneal computer labs go "off-line" due to school renovation or expansion.  We are happy to report that Tayud National High School in Consolacion, Cebu and Ilboro Secondary School in Arusha are both being readied for a return to service for students!
Lab closures and transfers have been particularly common in the Philippines in recent years, as the educational system has undergone a big change to add Grades 11 and 12 to the high schools.  The resulting shortfall of buildings meant that many specialized areas (such as gyms and computer labs) were converted to classrooms until new buildings could be completed.  Thankfully the building blast is almost behind them now, and hopefully as well the disruption to students, teachers, and computer labs.
Tayud NHS was particularly hard-hit.  Their campus is squashed into a very small area (they are actually "squatters" in the elementary school), so buildings actually had to be torn down so new multi-story buildings could be constructed.  The computer lab has been out of service for about a year now, awaiting completion of construction.  The newly resurrected Reneal lab is now on the third floor of a new building at Tayud, safe from flooding and hopefully settled in for a long time.  As one of the most active Reneal users, Tayud is definitely welcomed back!
When we were in Arusha in September, Ilboro Secondary School was in the midst of a major renovation effort.  Now that the new computer room is finished, our very capable and generous partners Habari Node and Arusha Node Marie have been reinstalling the equipment and wiring.  It's been a big job, but we were thrilled to get photos from Reneal School Liaison David Nyangaka showing the progress. 
We are so grateful to Tayud NHS and Ilboro SS for their patience and diligence.  We are thrilled that the Linux Penguins are almost back, ready for students to use again.  We look forward to visiting both schools in 2018 and seeing their new digs!
 [Photos: Tayud National High School computer lab (credit: Sir Antonio Echavez Jr.), Ilboru Secondary School computer lab (credit: Mr. David Nyangaka)]